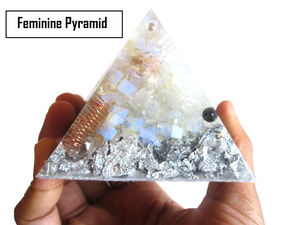 MYSTIC MOON ORGONE, ORGONITE PYRAMID
Regular price
$100.00
Sale price
$80.00
---
*Ready to Ship in 3-5 Business Days
The "Mystic Moon" Nun Mini™ Orgone Pyramid

(Size: 3.5" Base x 4" Height)
 
"ENHANCES DIVINE FEMININE ENERGY, PSYCHIC VISIONS, AND DREAM RECALL"!

(Size: 3.5" Base x 4" Height)

The "Mystic Moon Pyramid" is packed with all the Peaceful Vibrations Crystals needed for you to "tap into access and enhance your Divine Feminine Caring and Nurturing side!" This NUN™ Pyramid also does a powerful job in aiding you with accessing higher dimensional thoughts, Psychic Visions and Dream Recall! Packed with the Power of Divine Feminine Energy Stones, this is "NUN™ Pyramid" is truly "NEEDED' in this day and time with re-birth of the "GREAT MOTHER PRINCIPLE" Worldwide! 

Healing Crystals found inside are:

1. Moonstones - Vibrating with the Feminine Wisdom and Goddess Energy of the waxing and full Moon, moonstone has a reflective, calming energy. They help to strengthen ones intuition and psychic perception. Moonstones also bring Balance and Harmony with All. Moonstones definitely honors the Goddess in All Women! Gives wealth and the gift of prophecy to the possessor and helps one connect with the Feminine Side of one's nature as well as with the Goddess.

2. Clear Quartz - Raises Energy Levels to the highest possible level, enhances thoughts, as they are a form of energy, and it is extremely beneficial for manifesting, healing,meditation, protection and channeling. Quartz has the ability to dissolve karmic seeds, holding a Quartz Crystal in your hand, actually doubles your bio-magnetic field. It generates electro-magnetism and dispels static electricity. Quartz is commonly used to dispel negativity and clear away negative energy!

3. Sterling Silver - Known to enhance the Powers of the Moon, particularly during the time of the Full Moon and New Moon. Throughout the World "Silver" is identified with the "Lunar Manifestations of the Great Mother", the Eternal Goddess. As the Moon reflects the Light of the Sun, so does Silver reflect Negativity from its wearer.

THIS PYRAMID ENHANCES THE "GODDESS" LOVING CARING NATURE IN ALL OF US! FOR WHERE WOULD WE BE WITHOUT OUR "MOTHER"?

"All Nun Pyramids, are Created with the Positive Intention to Bring and Restore Balance back to your Mind, Body, Emotions, and one's Energy Level!"

*PLEASE NOTE: You will receive an item very similar to the above pictures as our Pyramids are hand crafted to perfection, so stone placement and look of each Pyramid may vary! 

ALL PYRAMIDS ARE CHARGED BY THE POWER OF THE SUN FOR AT LEAST 1 HOUR... THEN CLEANSED WITH "WHITE SAGE SMOKE" BEFORE WE SHIP TO YOU!

***Happy Healing***