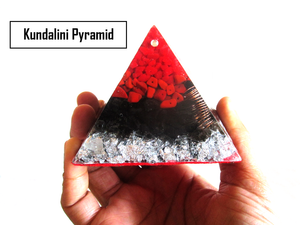 KUNDALINI ORGONE, ORGONITE PYRAMID
Regular price
$100.00
Sale price
$80.00
---
*Ready to Ship in 3-5 Business Days
The "Kundalini Rising™" Nun Pyramid™

(Size: 3.5" Base x 4" Height)

This Powerful Nun™ Pyramid can placed on the "Root Chakra" during meditation or any form of Energy Work, to enhance the Powers of your sleeping Kundalini Serpent. We recommend placing the Kundalini Rising Pyramid in both hands while visualizing a powerful Serpent Energy unraveling at the base of your Spine. Also the Kundalini Rising Nun ™ Pyramid is very effective in assisting with deep sleep, when placed on a night stand or under your pillow while resting.


To learn more about "Kundalini Energy" Read below: 


Kundalini is a psycho-spiritual energy, the energy of consciousness, which is thought to reside within the sleeping body, and is aroused either through spiritual discipline or spontaneously to bring new states of consciousness, including mystical illumination. Kundalini is Sanskrit for "Snake" or "Serpent Power," so-called because it is believed to lie like a serpent in the "root chakra" at the base of the Spine. In Tantra Yoga Kundalini is an aspect" of Shakti, known as the "Divine Feminine Energy!"

Modern medical science adopted the image of the kundalini as their symbol; however medical practice has long since forgotten its roots in spiritual healing. (Article source: http://theforceissource.tumblr.com/post/15620777292/kundalini-is-a-psycho-spiritual-energy-the-energy )

Healing Crystals found inside are: 

1. Black Onyx - increase regeneration, happiness, intuition and one's instincts.Balances One's Mind, VERY POWERFUL PROTECTOR! 

2. Red Coral - used to connect with Nature on all Levels, also used to quiet the emotions and bring inner peace with oneself. Excellent stone for intuition, imagination and visualization! Many Ancient Cultures say the "Red" bright color of Coral ties into the Blood and igniting the passion within and your Root Chakra! Kundalini or Divine Shaktism!! 

3. Garnet - a stone of romantic love and passion. Metaphysically it is used to enhance sensuality, sexuality and intimacy. It is said that garnet will bring positive thoughts and boost energy. Garnet is also a protective energy stone which is especially effective for protection from evil!

4. Sterling Silver - Known to enhance the Powers of the Moon, particularly during the time of the Full Moon and New Moon. Throughout the World "Silver" is identified with the "Lunar Manifestations of the Great Mother", the Eternal Goddess. As the Moon reflects the Light of the Sun, so does Silver reflect Negativity from its wearer.

"Release Your Inner Passion Within!"

"All Nun Pyramids, are Created with the Positive Intention to Bring and Restore Balance back to your Mind, Body, Emotions, and one's Energy Level!"

*PLEASE NOTE: You will receive an item very similar to the above pictures as our Pyramids are hand crafted to perfection, so stone placement and look of each Pyramid may vary! 

ALL PYRAMIDS ARE CHARGED BY THE POWER OF THE SUN FOR AT LEAST 1 HOUR... THEN CLEANSED WITH "WHITE SAGE SMOKE" BEFORE WE SHIP TO YOU!
***Happy Healing***