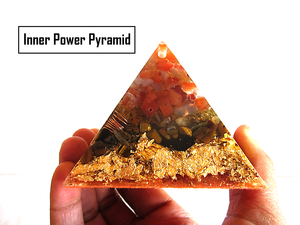 INNER POWER ORGONE, ORGONITE PYRAMID
Regular price
$100.00
Sale price
$80.00
---
*Ready to Ship in 3-5 Business Days
The "Inner Power" Nun Mini™

(Size: 3.5" Base x 4" Height) 

The "Inner Power Orgone Pyramid" is packed with all the Electrifying Crystals needed for you to "Unleash Your Inner Power, Higher Potential & Will to do!" This Nun Mini™ Pyramid will not only assist you in "Unleashing Your Inner Potential but give you the drive and Will Power, and focus to GET IT DONE & Make it Happen!" This Nun Mini™ also has Many Grounding Crystals needed to keep you Focused, enabling you to Accomplish all your Goals, Visions, and Dreams! Get ready to unleash your Inner Power to the World!

Healing Crystals found inside are: 
1. Carnelian - Aids in overstanding the inner self and strengthens concentration. Helps one to overcome the fear of public speaking, increases the self worth, and is a fast acting stone to succeed in one's career. Carnelian assists in stimulating creativity and seems to have a clearing effect, dispelling "Negative Energies" as it replaces them with "Positive" Ones.

2. Tiger's Eye - Used to increase Wealth and Vitality, enhances courage, brings passion and physical strength, and allows these attributes to be tempered with mental clarity and a joyful outlook. As a "Power Stone" Tiger's Eye has a wonderful reputation for attracting wealth, money and luck!

3. Black Onyx - increase regeneration, happiness, intuition and one's instincts.Balances One's Mind, VERY POWERFUL PROTECTOR!

4. Clear Quartz - Raises Energy Levels to the highest possible level, enhances thoughts, as they are a form of energy, and it is extremely beneficial for manifesting, healing, meditation, protection and channeling. Quartz has the ability to dissolve karmic seeds, holding a quartz crystal in your hand, actually doubles your bio-magnetic field. It generates electro-magnetism and dispels static electricity. Quartz is commonly used to dispel negativity and clear away negative energy!

5. Citrine - the only stones that dissipates negative energy and never requires cleansing or clearing. It emits a warm energy that promotes optimism, attracts abundance and is known as "a merchant's stone"! Citrine enhances your body's healing energy and opens your conscious mind to intuition. It also helps one adjust and adapt to the process of change, giving the feeling of confidence and security. Citrine's magnetic radiating energy can aid you in voice projection, making this the perfect stone for actors and public speakers.

6. Herkimer Diamond - Called the "Stone of Attunement". While it is not actually diamond, it is a quartz that often resembles the sparkling clarity of diamonds. It can be metaphysically programmed to attune one to an environment, a situation, a quality, or most anything. Used to assist with balancing on the mental, emotional and physical levels. It can also be used effectively to clear and open any chakra. Psychically, it's useful for auric cleansing and dream recall. Herkimer Diamond is associated with the Crown Chakra.

7. Hematite - It brings with it grounding and calming which in turn creates mental organization and focus.Decreases Negativity and can help balance the mind - body -spirit connection, draws "Negative Energy" away from you into itself.

"All Nun Pyramids, are Created with the Positive Intention to Bring and Restore Balance back to your Mind, Body, Emotions, and one's Energy Level!"

*PLEASE NOTE: You will receive an item very similar to the above pictures as our Pyramids are hand crafted to perfection, so stone placement and look of each Pyramid may vary! 

ALL PYRAMIDS ARE CHARGED BY THE POWER OF THE SUN FOR AT LEAST 1 HOUR... THEN CLEANSED WITH "WHITE SAGE SMOKE" BEFORE WE SHIP TO YOU!

***Happy Healing***